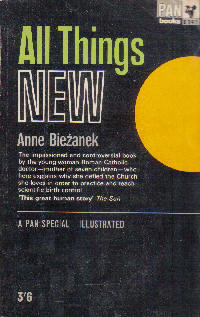 I remember Anne Bieżanek well. Hers was the first banned book that I obtained legitimately.
I Googled her just now and found she had died a little over a year ago at the age of 83.
She was a great woman and a formative influence.
She was a Roman Catholic doctor and married woman who opened a birth control clinic in Liverpool in the early 1960s. She was refused communion at her local church and only succeeded in receiving the sacrament when she took herself to the altar rails at Westminster Cathedral and outfaced Archbishop Heenan (as he then was).
She then wrote a book which was in two parts. The first part detailed her efforts to set up her birth control clinic (St. Anthony of Padua) and her brushes with the RC church. The second part set out the history of the RC church's second class treatment of women down the ages.
The book, which was a Pan paperback was banned in Ireland (under the contraceptive schedule). I requested a permit from the Department of Justice to import a copy, and, much to my amazement, actually got one. You can see a copy at the foot of this page.
She was a pioneer and a person of integrity and deserves to be remembered.
The book is now out of print and she doesn't even have a page of her own in Wikipedia, unlike some of the unworthies who are taking up space there. You can read a little about her in the Liverpool Echo
report of her death.